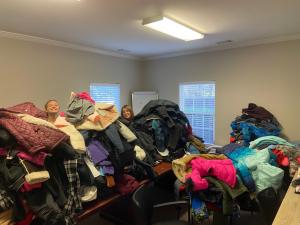 United Way of Sumner County is grateful for the many volunteers who ensure our drives are a success.  From sorting to packing to delivering, our volunteers help make it happen.  We always welcome volunteers for our various drives during the year. Volunteers must be 16 or have a guardian with them during the volunteer work.
Volunteer opportunities include: 
Winter Care Drive - Sept. 25 through Oct. 20
We collect gently used coats for children ages 0-18 plus new hats, socks, and gloves for this same age group.  We then deliver them to our partner agencies who serve children. We will need help counting and sorting the donations when they arrive. 
United We Feed Drive – Nov. 1 through Nov. 30
We collect canned goods and non-perishable items to be given out in December. We will need help sorting, counting and documenting each item. 
Mom & Baby Care Drive – April 1 through April 26 
We collect diapers and wipes for babies and personal care items for moms, to be given away in May. We will need help sorting, counting, and documenting each item.
Those interested in volunteering during any of these drives should email Toni@unitedwaysumner.org.