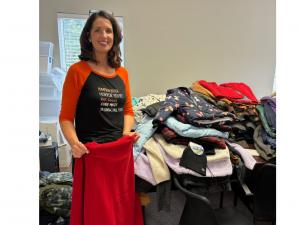 United Way of Sumner County continues to add new faces to its incredible group of volunteers.
Recently, Patricia Huneycutt joined our volunteer ranks.  She finds time to volunteer when she is not working at P.L. Marketing or pursuing a bachelor's degree from the University of Tennessee.
"My job is part time which helps to give me time to study and do my assignments. I have also had extra time this semester to volunteer since I had fewer classes," Patricia says. "I belong to an organization Gamma Beta Phi for honor students and (it) encourages volunteer work. 
"I had received my associate's degree from Motlow and wanted to further my education, so I decided to pursue my bachelor's degree from the University of Tennessee at Knoxville. I will graduate in May with a degree in Interdisciplinary Studies," Patricia says. "It's custom tailored to older students like myself and all online. Of course, it helps that I am die-hard Volunteer fan and love to watch the games. "
Since helping United Way of Sumner County, Patricia has worked hours on the Winter Care Drive - sorting hundreds of coats, hats, socks and gloves. On another day, she helped deliver some of those coats to Community Child Care in Hendersonville, just one of the many United Way funded partners receiving the winter items.
"I enjoy volunteering because I want to serve the community I live in and help support the organizations that support the communities like the United Way,'' Patricia says.
"They have been instrumental in giving and supporting Sumner County with various activities such as the coat drive and food drive. I like being a part of the United Way by volunteering and supporting their cause."
Thank you, Patricia, for giving of your time to help our community.