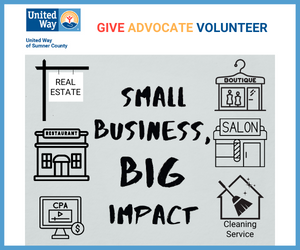 Workplace Giving campaigns are an important part of fundraising for United Way of Sumner County.  But, did you know that you don't have to be part of a corporate Workplace Giving Campaign to participate in easy automatic monthly contributions to UWSC?  If you are a small business owner or self-employed, or your company doesn't offer payroll deductions to United Way, you can set-up payments yourself directly on our website!  Even the smallest gift can go a long way and EVERY gift matters!  (See our examples below which show a sampling of how your monthly gift can make a difference in our community.)
It's easy to set-up:  
Click this link.  (You can also click the "Donate Now" button on our home page and select "Pay by credit card.")
Enter your contact information.
Select your donation type.  (If you want your donation to be credited to your business, choose "on behalf of a company/organization."  If this will be your personal donation, choose "individual.")
Answer yes or no to the question, "Is your donation part of a Workplace Giving Campaign?"  (Click here if you'd like to learn more about Workplace Giving Campaigns.)
Click "Monthly" under "Frequency of Your Donation".
Select one of the donation amounts.
If you'd like to designate your gift to one of our four focus areas or to a specific 501c3, please let us know in the "Comments/Instructions" section.
Enter your credit card information.
Click "Review" and submit your donation.
Be a part of giving back to YOUR community and remember small businesses can have a BIG impact! Live United!    
Samples of how far your monthly gift can go...