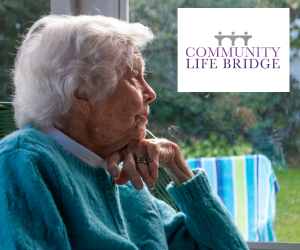 Community Life Bridge provides rides to senior adults through their volunteer-based Community Life Ride program.  As volunteers provide rides, they build relationships with the riders, getting to know many personal details of their lives.
One of their riders was making weekly trips to visit her husband in a nursing facility. The driver dropped her off, and while waiting to pick her up, received a phone call saying that the rider's husband had passed away during their visit. The driver returned to the facility and stayed with the rider, assuring she wasn't alone until she was ready to leave, making sure that transportation home would not be an issue on one of the hardest days of her life.
Another recent widow got a ride to the utility company to remove her husband's name from their account after his passing. Knowing it was a very difficult step for her, her volunteer driver picked her up, walked in with her, and stayed right by her side as she talked to the utility company, offering her much care and reassurance during the process. The extra step and attention meant the world to this widow who repeatedly shared this story with the Community Life Bridge team talking about the impact it made on her life.
It is clear that Community Life Ride provides more than just a ride to and from a destination, they also provide a one-on-one service that is reliable and caring as they help the seniors they serve walk through different seasons in their lives.