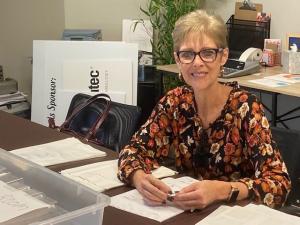 When you see Debbie Sheets in the community, be sure and thank her for all she does for United Way of Sumner County – and, for all she has done for the children of Sumner County and beyond.
For more than 30 years, Debbie served the students at Hendersonville High School (HHS) as the STARS senior program manager.
"My job was to address mental health issues and help students be able to overcome barriers to learning. I am a tongue cancer survivor, so I was unable to continue working in 2021," Debbie says. "Now, I am able to use my gifts to serve others in the community through United Way as well as other civic organizations." 
Debbie has been involved with United Way for over 25 years because STARS is a United Way funded agency and she also served as the UWSC Workplace Giving Campaign Coordinator for HHS. 
"I have been volunteering for United Way this year and was honored to be a part of one of the allocation panels.  Through the allocation process I learned about another funded agency, Community Life Bridge, and plan to volunteer for them as well. I am involved in Little Dresses for Africa, sewing dresses for children so they are less likely to be taken for sex trafficking. I am serving as a board member for the League of Women Voters." 
Debbie has volunteered in various capacities for United Way, including serving as an office volunteer, and during our drives and events. Her work has increased United Way's productivity and efficiency.
"I am volunteering for United Way because I have seen firsthand what their support has done to make vital services available to young people with mental health issues," Debbie says. "Were it not for United Way there would have been many young lives lost for lack of the help they desperately needed. My life has been about making a difference in the lives of others and that is the mission for United Way as well."
Debbie, you make a difference every single day! Thank you for your service to all.